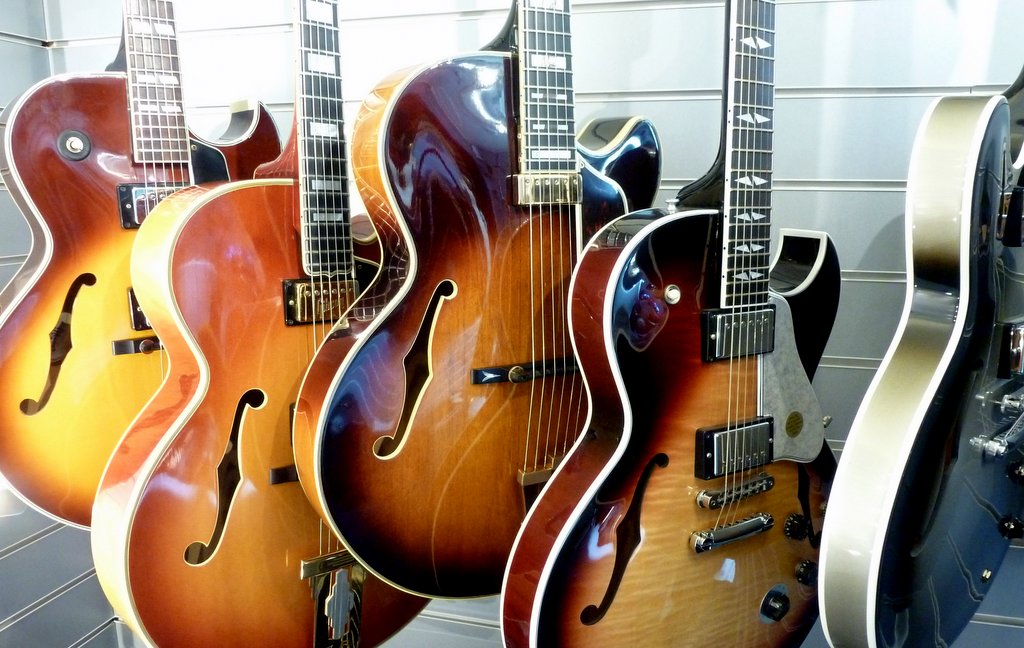 Although Leo Fender's Telecaster (developed from the Esquire) and Gibson's Les Paul are rightly championed as the pioneering solid body guitars, there is another kind of electric guitar.
Indeed, the first electric guitars were basically acoustic guitars with pickups added - like the early Gibson L5 models.
There are various kinds of hollow-bodied guitars. There are archtops - they literally have an arched top - which usually have 'f-holes' like a violin. There are also some hollow-bodied guitars that feature a solid wood block inside which helps sustain notes as well as cutting down the likelihood of getting unwanted feedback. Within archtop guitars, there are huge-bodied guitars as favoured by many jazz players.



These kind of guitars are also often used by Rock 'n' Roll players and Rockabilly artists. Hollow-bodied guitars are often used by blues players, too. In the 1960's, thinline archtop guitars were probably the most popular guitars - the Beatles used Gretsch and Epiphone semi-hollows, as well as semi-hollow Rickenbackers which usually have a hollow chamber without being fully hollow-bodied.
So, starting with Charlie Christian, late period Django Rheinhardt, Wes Montgomery, Muddy Waters, John Lee Hooker, Eddie Cochran, Duane Eddy, Carl Perkins, the Beatles, the Rolling Stones, the Kinks, Steve Howe (Yes), Johnny Marr, Noel Gallagher, Paul Weller, Bernard Butler, U2 and so on, guitarists have been using archtops, hollow-bodied electric guitars, semi-acoustic electric guitars and hollow-chambered electric guitars.

As good as the sound of a solid body electric guitar is, there's something about electrifying the sound of a guitar that sounds good (if not quiet) even when it's not plugged in!
Some of the big names in the world of semis are Gibson, Epiphone, Gretsch and Rickenbacker. In the 1970's, Japanese manufacturer Ibanez started making Gibson-style archtops that gave the originals a run for their money. We also have some great PRS guitars that play like solid-body but have the depth being semi-hollow. The Epiphone ES339's are a small-bodied semis. They also do a new Ultra version which has modern features such as direct USB inputs.
Promenade Music now have a dedicated room full of these guitars. One of the stars of the room is the Stephen Stills Gretsch Falcon. But there are pleny of beautiful guitars in there. Have a look at our collection of semis here:

Archtops, Semi-Hollow Bodied Guitars, Hollow-Chambered Electric Guitars at Promenade Music

Or, why not call in and see them for yourselves? Give us a call on 01524 410202 for more details.