Kawai CN24 & CN34 Digital Pianos in Stock Now!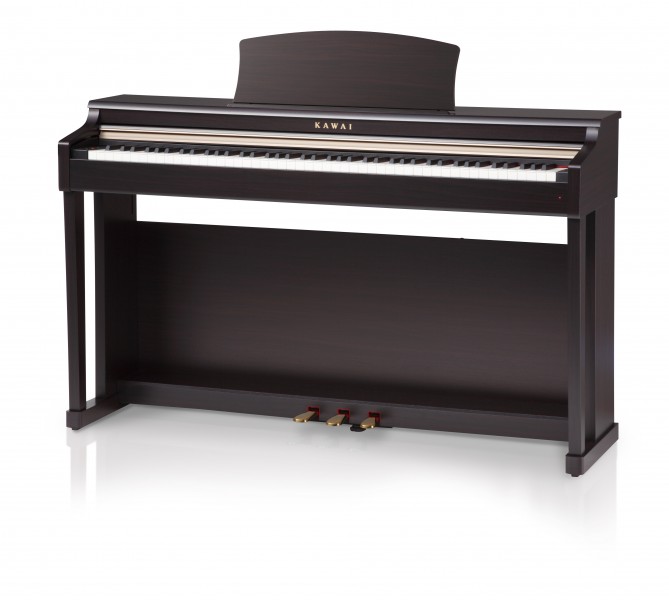 We have just received our first delivery of Kawai's brand new digial pianos, the CN24 and the CN34. Our initial quantities are in Rosewood, but they are also available to order in Cherry, Mahogany, Satin Black. The CN34 is also available in Satin White.
The Kawai CN24 and CN34 build on the success of the CN23 and CN33, but their are several significant improvements, from cabinet design, ivory-feel hammer action, user-friendly controls and much more.
Kawai CN24 Digital Piano in Rosewood (Pictured)
Utilises the new Responsive Hammer 2 (RH2) keyboard action

The compact Kawai CN24 digital piano utilises the new Responsive Hammer 2 (RH2) keyboard action, featuring KAWAI's Ivory Touch key surfaces and let-off simulation for maximum control and repetition. In addition the latest Progressive Harmonic Imaging 88-key piano sampling technology with 192 note polyphony and a variety of additional functions is used. With a traditional furniture design and attractive Premium Rosewood, Cherry, Mahogany, and Black Satin finishes complementing the exceptional touch and authentic tone of this charming instrument, the CN24 truly establishes a new standard in digital piano performance, quality, and value.
Take a more detailed look at the Kawai CN24 by clicking here. Or give us a call on 01524 410202 for more details.
Kawai CN34 Digital Piano in Rosewood
Authentic playing feeling and excellent piano sound.

Authentic playing feeling and excellent piano sound are the main features of the new Kawai CN34 digital piano. The new RH2 action with Ivory Touch, Let-Off simulation and a 3 sensor system as well as a sound source with maximum 256 notes polyphony and the new effect system are just a few of all new features. In addition a selection of useful functions is on board. The Lesson function supports you while learning the most popular practising songs of the Alfred piano books.
You may also enjoy the possibility of the Dual- or Split-mode and use the additional sound selection. Recording and playback using the MIDI and Audio jacks connected to a computer or direct recording/playback using a USB memory with MP3 or WAV format is possible.

Thanks to the experience of making acoustic pianos for more than 85 years Kawai reached a very high reputation among piano teachers and pianists. Like all other Kawai instruments the new CN series is made based on extremely high standards ensuring a long time of joy playing this piano.
Take a further look at the features and spec of the Kawai CN34 here. Or call 01524 410202 for more details.