Check the latest Promenade Music events below. Everyone welcome!
---
Promenade Music are hosting a Vintage® open day on Thursday 15th November.
Between 4pm - 7pm guitar players are invited to visit the store, talk to the Vintage staff in attendance with their questions, and pick up and plug in a Vintage guitar for themselves.
Promenade Music will have a wide selection of Vintage electric guitars and basses available for attendees to play, as well a number of Encore guitars.
Facebook event page - http://www.facebook.com/events/511221706045972/
...
---
We are excited to welcome Peter Baartmans back to the UK. Hailing from the Netherlands, Peter will present an evening to remember as he demonstrates why he is the master of Yamaha's most exciting keyboard: Genos.
Whether you are already a proud owner of Genos, are interested in just what Yamaha's latest workstation has to offer, or simply love music… Yamaha and Promenade Music invites you to enjoy an evening with a world class musician.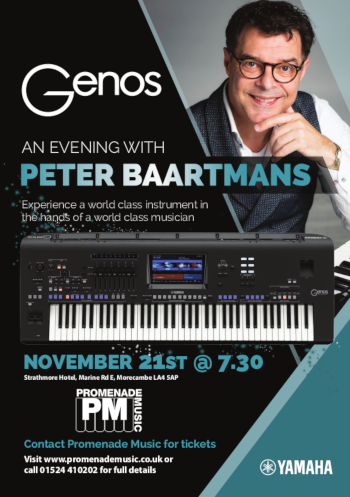 ---
Visit The Promenade Music At The Merseyside Guitar Show

Aintree Racecourse Exhibition Centre
Ormskirk Rd, Liverpool L9 5AS

10am to 4pm

FREE PARKING

---
Date - 05/12/2018
Time - 7:30pm
Venue - Strathmore Hotel, Morecambe (next door to Promenade Music)
Come and join Promenade Music and Korg as we demonstrate the PA4X, PA1000 and PA700 arranger keyboards.
The 60 minute "concert" will start at 7:30 and will be followed by a Q&A session and a chance to get up close and try these instruments.
---
Showing 1 to 4 of 4 (1 Pages)