---
UK Customers
If you are a UK based customer, you can buy online through our 3D secure store.

European Customers
If you are a European based customer, good news, we accept European orders but - due to international credit card fraud - we only accept payment for European orders by bank transfer.

If you would like to order a product from us, the process is as follows.

Step 1
(1) email us with the product you would like to order / enquire about.
(2) We will email you b...
---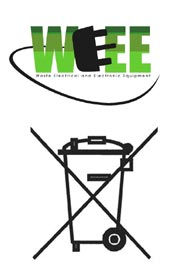 The WEEE Directive

The Waste Electrical and Electronic Equipment Directive (WEEE Directive) was introduced into UK law in January 2007 by the Waste Electronic and Electrical Equipment Regulations 2006. The amount of Waste electrical and electronic equipment thrown away in the UK is increasing by about five per cent per year, making it the fastest growing waste stream in the UK. The WEEE Directive aims to reduce the amount of WEEE being produced and to encourage everyone to reuse, recy...
---