Korg Volcas All Sync'd Up!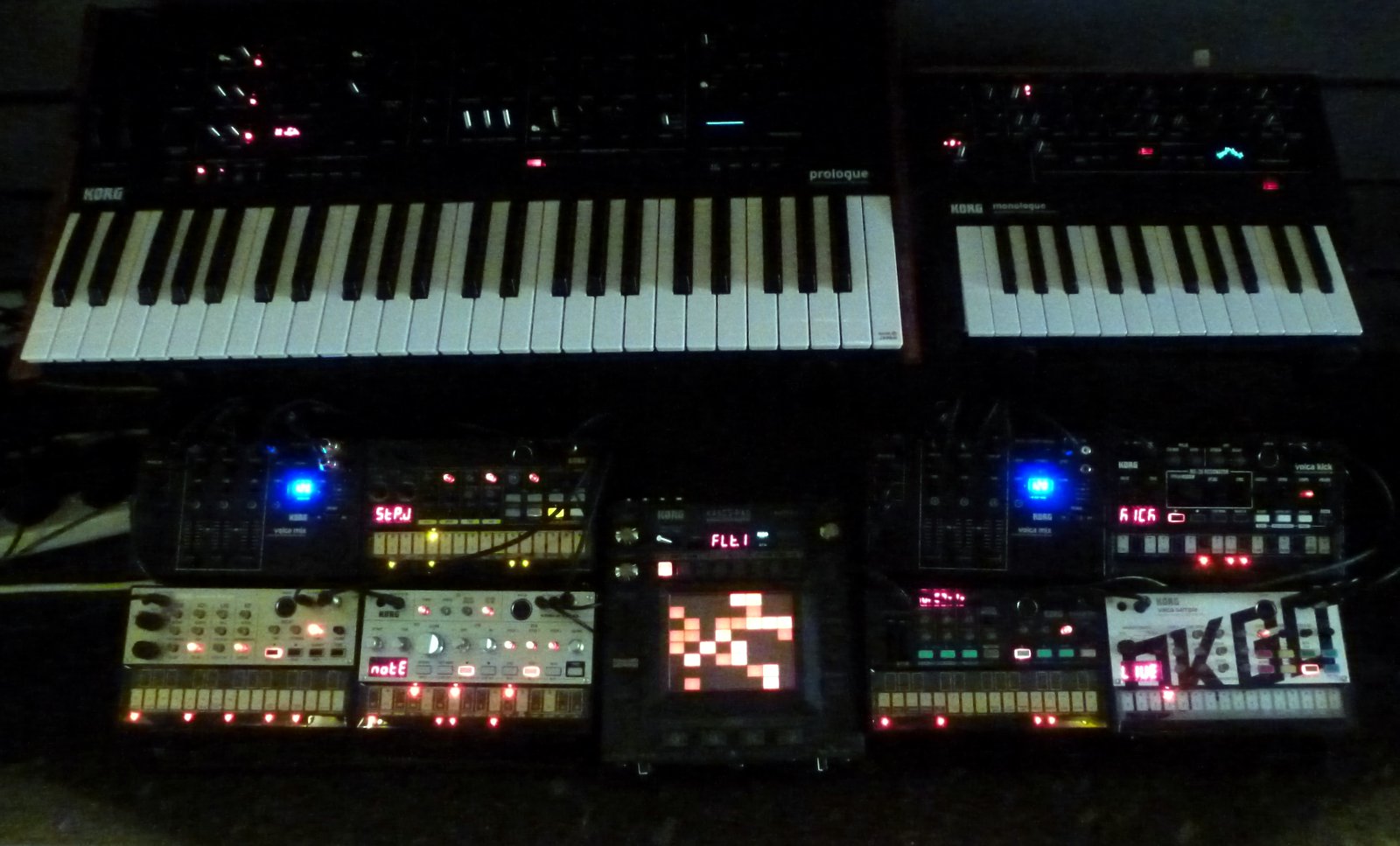 No, it's not the Bat Cave!
The original trio of Korg Volca's were the Beats, Bass and Keys
Volca Keys - Analogue Loop Synth 
Volca Bass - Analogue Bass Machine
Volca Beats - Analogue Rhythm Machine

Three true-analog synthesizers with built-in sequencers to generate the ultimate analog leads, basses, and rhythms

Following in the footsteps of the monotron, monotribe, and MS-20 Mini analog synthesizers, Korg announces the Volca series. volca is a new lineup of EDM production tools comprised of three distinct models: the Volca Keys lead synthesizer, the volca Bass synthesizer, and the Volca Beats rhythm machine. These powerful and fun-to-use true-analog devices deliver a diverse array of fat sounds that can be obtained only from an analog synthesizer. Each is also equipped with sequencing/recording capabilities for intuitively generating performances. Multiple volcas can be used in tandem via the vintage-style sync in/out, and with your favorite DAW software or MIDI keyboard via MIDI In. Battery operation and built-in speakers mean that you can conveniently play anywhere and anytime. These are the next-generation analog synthesizers, bringing you the ultimate sounds and grooves with ease and depth. Whether used together or by themselves, the volca series is poised to inject true analog power into any performance or studio setup!
These were then followed the Korg Volca Sample (a sampler), Kick (a bass drum, also capable of deep bass) and then the FM (FM Synthesis) and the limited edition OKGO version of the Sample (pre-loaded with OKGO samples).
Most recently, Korg released the Volca Mix, which is a mixer for 3 Volcas and ideal for playing 3 at once in a live situation. Yes, there are cheaper mixers out there (just) but this one has in-built speakers and was designed specifically with Volcas in mind.
One of our staff members has hooked them ALL together and stuck KP3+ in the middle for good measure. Although each individual Volca has a host of interesting features in their own right, they are also designed with playing them in sync in mind. They all connect easily together and they play in time together!
Start your Volca collection today?!
That's a Prologue and a Monologue above them all.
CHECK OUT THE VOLCA RANGE HERE.