Latest News from Promenade Music
---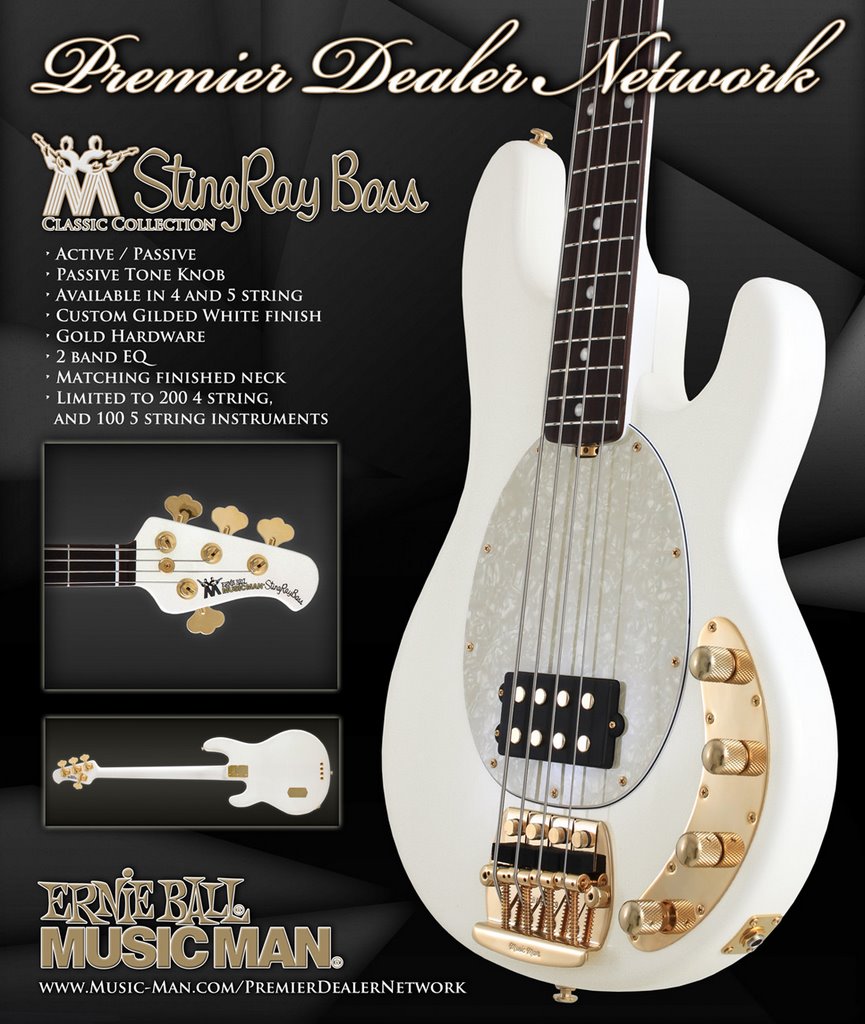 Musicman Gilded White Classic Stingray Bass

Limited Edition, can switch between active and passive, 4 or 5 string available
Hot on the heels of the Gold Luke (Steve Lukather Signature), we're delighted to announce the second PD (Prefered Dealer) Limited Edition instrument.

This time round it's a Classic Stingray, in Gilded White, which is white with a gold fleck and gold hardware.

It has the unique option of an active or passive mode and has the class...
---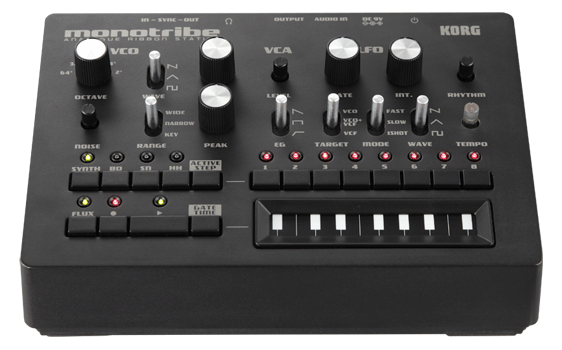 Wow, we've been waiting for these for a while, and now they're here! You get analog drum patterns, a sequencer and monotron-like synth features all on one machine. Amazingly, this only retails at £195!
There's some amazing stuff using these on YouTube, and on Korg's website HERE.
KORG Monotribe Analogue Ribbon Station

Analog Synth + Analog Rhythm + Step Sequencer = Analog Electribe
In a world seemingly ruled by digital, Korg created an analog sensation with the palm-siz...
---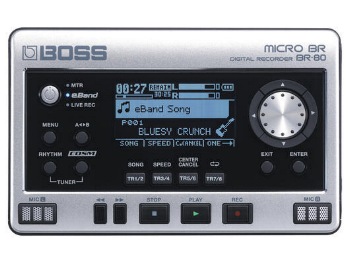 Boss started a trend a few years ago when they produced the Micro BR. It was one of the first pocket-sized handheld portable digital recorders on the market. It was also one of the first to include many features from it's acclaimed series of digital home recording studios.
Now Boss have produced a new and improved version, the Boss BR80. The BR80 looks similar to the Micro BR, it's small and still pocket-sized. But the BR80 is an 8 track (as opposed to four track), plus you get mo...
---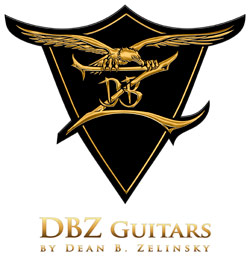 Promenade Music are proud to be a dealer for DBZ Guitars.
We have just received a massive shipment of DBZ guitars, so for any rock, hard rock or metal guitarist you are now spoilt for choice! Take a look at the models Barchetta, Bolero, Bird of Prey, Venom and Bare Bones Religion series.
Because we have bought in bulk, we are able to pass on massive savings to our customers.
The main man behind the DBZ Guitars company is Dean B Zelinsky, perhaps better known for the original c...
---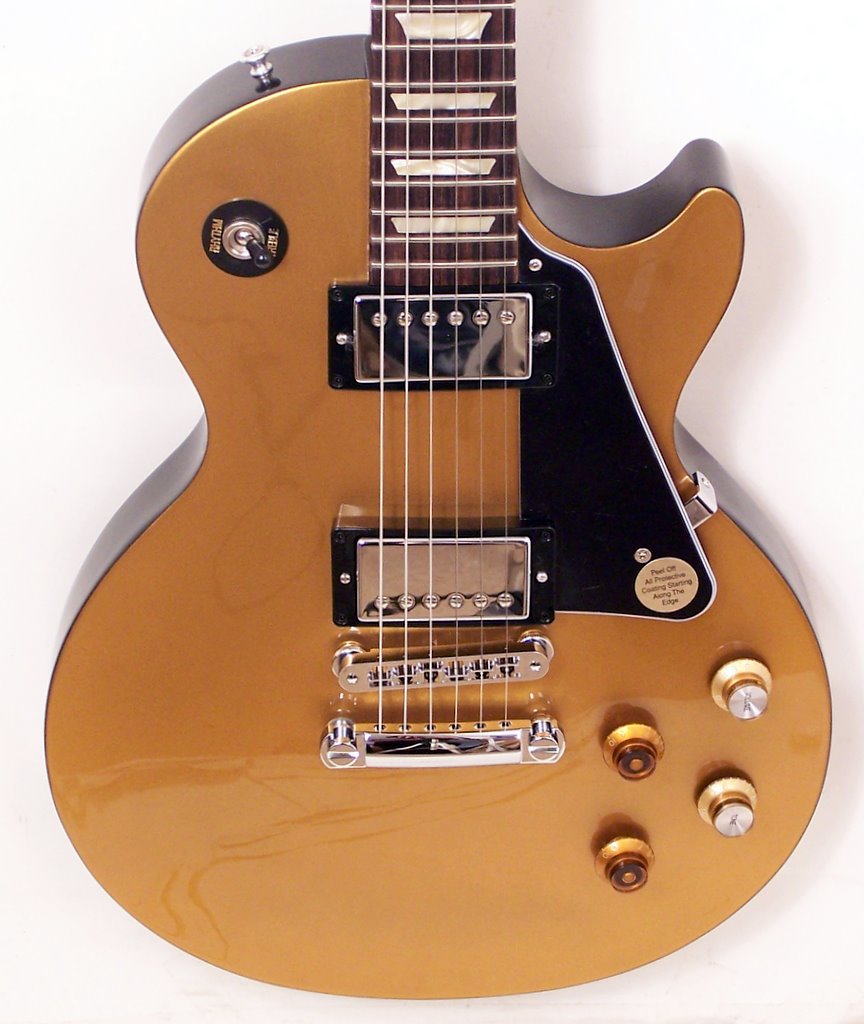 Gibson have made 600 Joe Bonamassa Les Paul Goldtops for the whole of Europe (with 600 for the USA). Promenade Music are delighted to have one of them in stock now.
Musicians that redefine an art form are few and far between. Yet in the span of a few years, guitarist Joe Bonamassa has singlehandedly transformed blues rock with his own unique fusion of both old and new ideas. His distinct interpretation of the blues, and his extraordinary guitar skills, have earned him a fitting a ...
---

Promenade Music
are delighted to have the brand new
Hammond SK1 Stage Keyboard
in stock now! This is an amazing small and portable keyboard boasting the classic Hammond Organ sound and much more! Come in and play one for yourself, or give our resident Hammond Organ 'freak' Steven a call on
01524 410202
.
The new Hammond SK1 Stage Keyboard features:
AUTHENTIC HAMMOND ORGAN DRAWBAR SOUND
EXTRA VOICE SECTION
DIGITAL LESLIE / VIBRATO
WIDE VARIETY ...
---
Promenade Music are proud to be one of the few UK dealers to be in receipt of the Limited Run of 200 Worldwide True Gold Luke HSS Electric Guitars, signed by Steve Lukather guitar player in TOTO.

The Music Man Limited Edition Luke in True Gold is the first of a new release of instruments only available through the Ernie Ball Music Man Premier Dealer Network of which we are proud to be a part of.

This stunning Luke is finished in True Gold with an all Rosewood neck. Limited ...
---
KORG KRONOS MUSIC WORKSTATION NOW AT PROMENADE MUSIC!
Steven here at Promenade Music has been fully trained on the Kronos by Korg, so will be available to answer your questions. Call him on 01524 410202 for more details. The Kronos contains NINE different engines in one amazing workstation! Read on for more details:
Prepare to be Amazed

For nearly half a century, Korg has set the sta...
---
Bridge Electric Violins, Cellos and Double Basses Available From Promenade Music
You can now buy Bridge Electric Violins, Cellos and double basses direct from Promenade Music at the UK's Best Price. Call Promenade Music on 01524 410202 to discuss.

Below is everything you need to know about Bridge Electric Violins (Aquila, Lyra, Octave), Cello (Draco) and double bass (Cetus). Although visually quite far removed from their acoustic counterparts, all Bridge instruments retain the esse...
---
Promenade Music now has one of the largest selections of Duesenberg guitars available!

Promenade Music is delighted to have received a huge shipment of Duesenberg guitars. We have rare versions of the 49-er (including Zebra, Cow and Skull or just classic black design features), beautiful hollow-bodied guitars like the Imperial (as shown in red, also in Light Orange) and the Carl Carlton signature model, plus the highly unusual D-Caster (with one of the most unique onboard features yo...
---