Yamaha B2 Silent Piano In Black, White, Mahogany, Walnut, Beech & Cherry
Manufacturer:
Yamaha
Availability:
Check Stock On 01524 410202
Normally:
£6,618.00
Discount Price:
£5,299.00
Yamaha B2 Silent Piano in Black, White, Mahogany, Walnut, Beech & Cherry

113cm Traditional Cabinet

With Yamaha's latest SC2 SILENT Piano Technology


Key Points

113cm Traditional Cabinet
Wooden Back Posts
High Grade Hammers
V-pro Iron Frame
Yamaha B2 Silent Piano in Black, White, Mahogany, Walnut, Beech & Cherry
113cm Traditional Cabinet
An acoustic and digital piano in one! Silent functionality has been added to the B2 series with Yamaha's latest silent system. Produced at Yamaha's own Indonesian piano factory - from a scale design developed in Japan - Yamaha's B2 Series pianos offer fantastic quality, excellent value for money, and endowed with Yamaha's renowned pure, rich, clear tone. The B2's construction is wonderful featuring strung backs with Yamaha's own strong cast iron V-pro frame; specially selected solid spruce soundboard; and four sturdy wooden back posts to give additional strength. Yamaha use their specially developed 'B Series Special' high-grade hammers and a proven action design that offers effortless playing and a highly responsive keyboard touch. The hard-wear ing key surfaces are acrylic resin for the white keys and black phenolic resin with wooden filler for the black keys.

If you don't know anything about 'Silent' pianos. Check out this Yamaha Silent Piano Video from Yamaha. Although the video's old [November 2010], it will still give you a great idea about what a Silent piano is and does. Don't forget, if you have any questions, just give us a call at Promenade Music on 01524 410202 or email [email protected]

Dimensions (Allow for...)
Width - 150cm
Height - 113cm
Depth - 54cm
Weight - 207kg
What is SILENT Piano™?
When the SILENT Piano™ function is activated, the hammers will no longer hit the strings and instead, a highly sophisticated sensor-technology captures all movements of the keys and sends them to the digital tone module. Play a real acoustic piano with headphones at any time, day or night without being disturbed or disturbing others. The Yamaha Silencing System is unsurpassed, allowing 24hr practice as well as possessing many other features including a range of pre-installed sounds, being able to record your own performances or connecting mobile devices to use the latest Apps.

Affordable Quality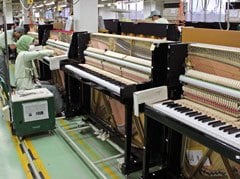 Produced at a Yamaha factory in Indonesia from a scale design developed in Japan, b Series pianos are Yamaha's most affordable entry-level uprights. Although reduced production costs allow budget-friendly prices, Yamaha makes no compromises in the materials and workmanship that go into these exceptional uprights.
Quality Components, Quality Sound
Supported by four sturdy wooden back posts and a strong cast iron frame, b Series pianos are endowed with Yamaha's renowned pure, clear tone. High-grade hammers and a proven action design offer effortless playing and a highly responsive keyboard 'touch' that make these uprights ideal for beginning players.
Design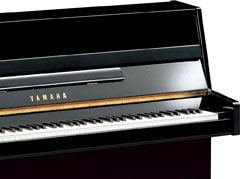 Yamaha's b Series features pianos in a range of heights, widths, and depths. The b1 and b2 boast slender profiles, making them ideal for small spaces. With its larger dimensions and heavier construction, the b3 upright requires a little more room but brings a rich, far-reaching sound.





---
Important Note
Price errors and omissions excepted - An order is considered finalised on dispatch. No monies are debited from your card until the item is in stock or by prior arrangement.
#