Fender American Performer Series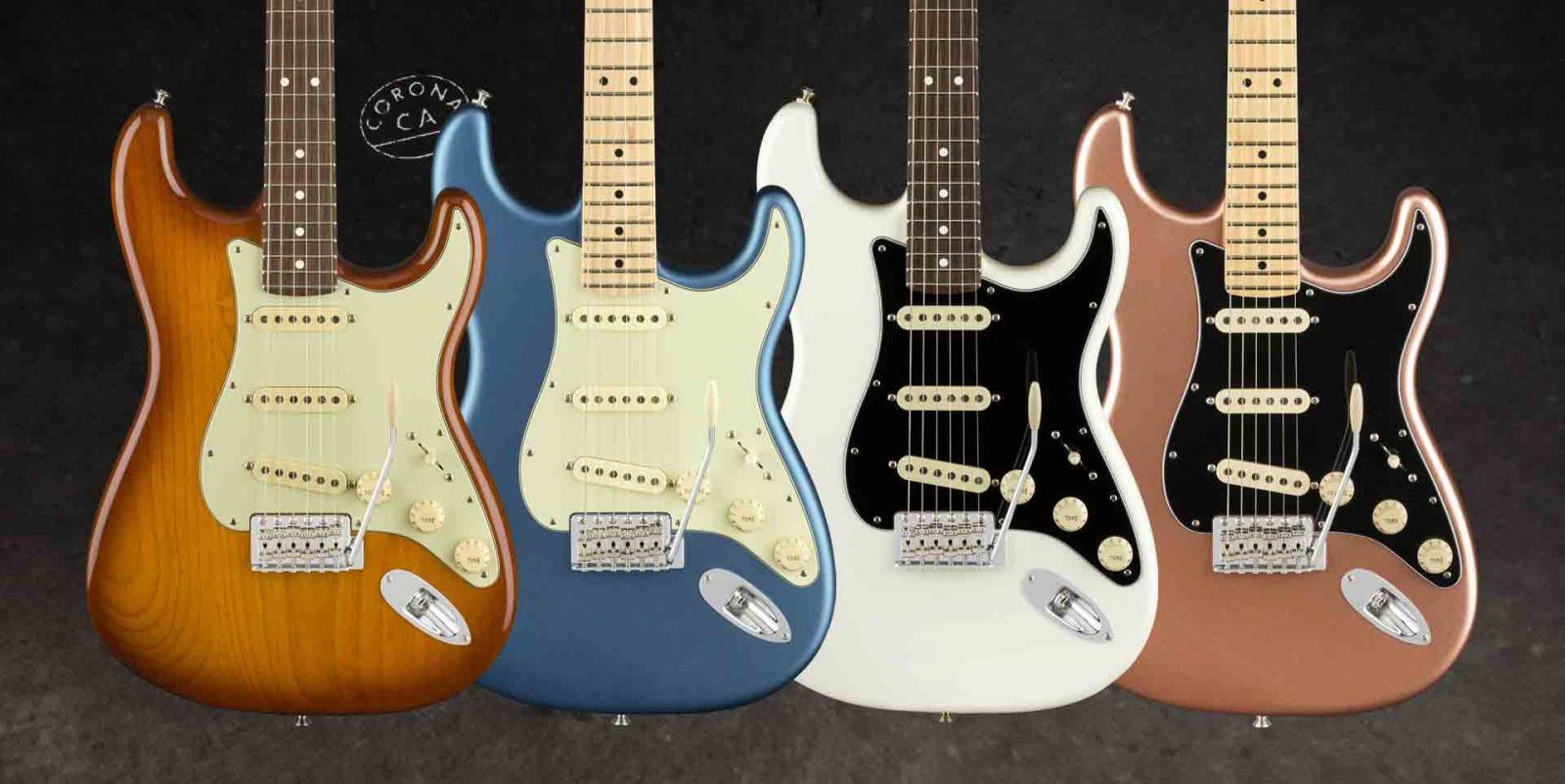 New Fender American Performer Series

The American Performer Series is Fender's newest entry-point into their U.S. made instruments, placing Fender quality into the hands of players at any level.
For the guitarist who wants a combination of timeless Fender style and contemporary features, this series blends traditional Fender design with new innovations and modern elements to maximize the tone and performance. And like all Fenders' American-Series instruments, American Performer is handcrafted in Corona, California.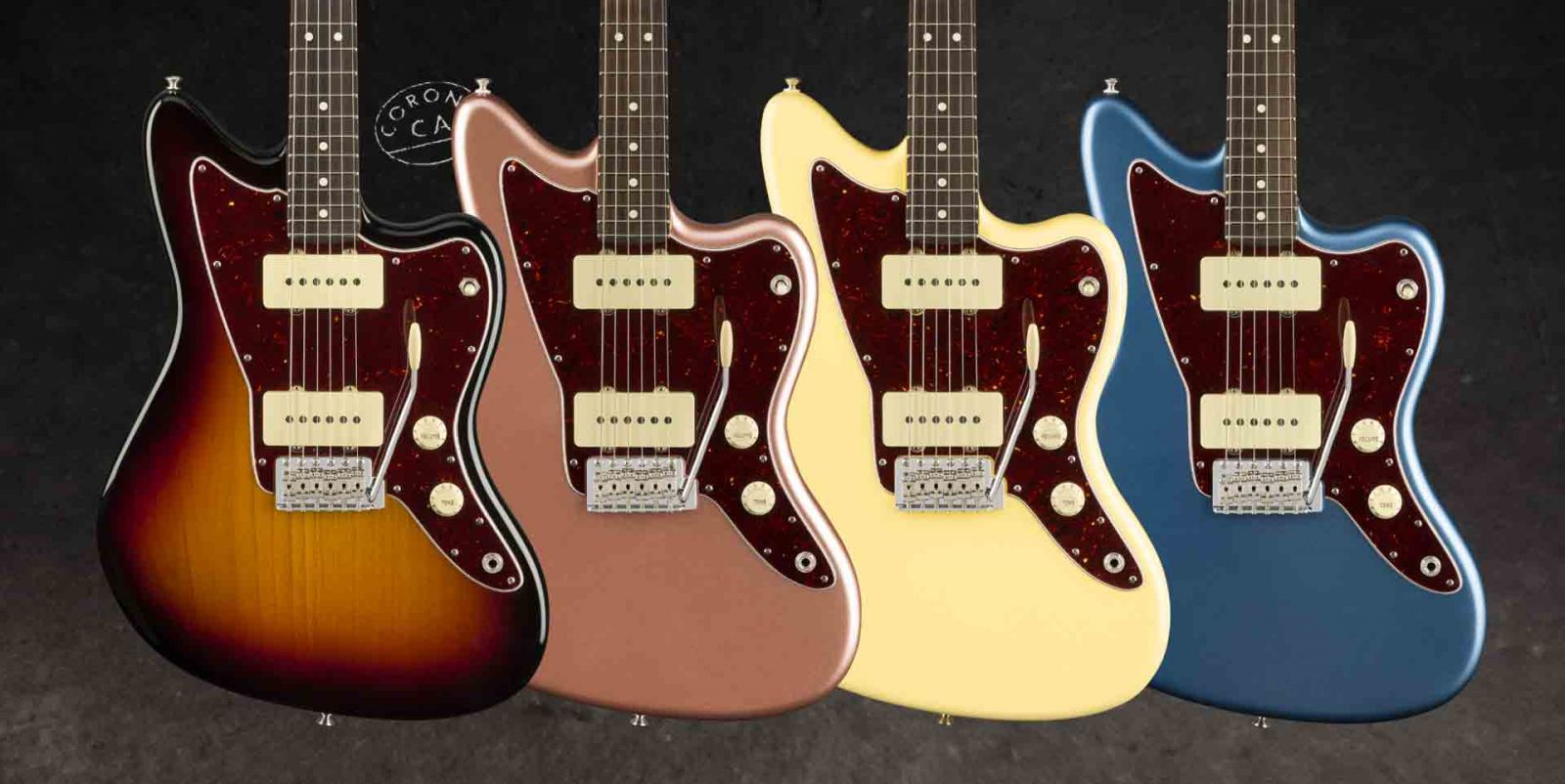 The Fender American Performer series takes what was great about the American Special and builds upon it, evolving the instruments to set the bar higher than ever before.

New Models, New Finshes, New Pickups

Fender have added six new models to the line-up, including Jazzmaster, Mustang, a Tele Hum and Bass models. There are also six new amazing colours - Arctic White, Aubergine, Honey Burst, Penny and two satin finishes. The new Yosemite™ Pickups are designed and voiced to deliver sonic versatility and new useful tonalities for all styles.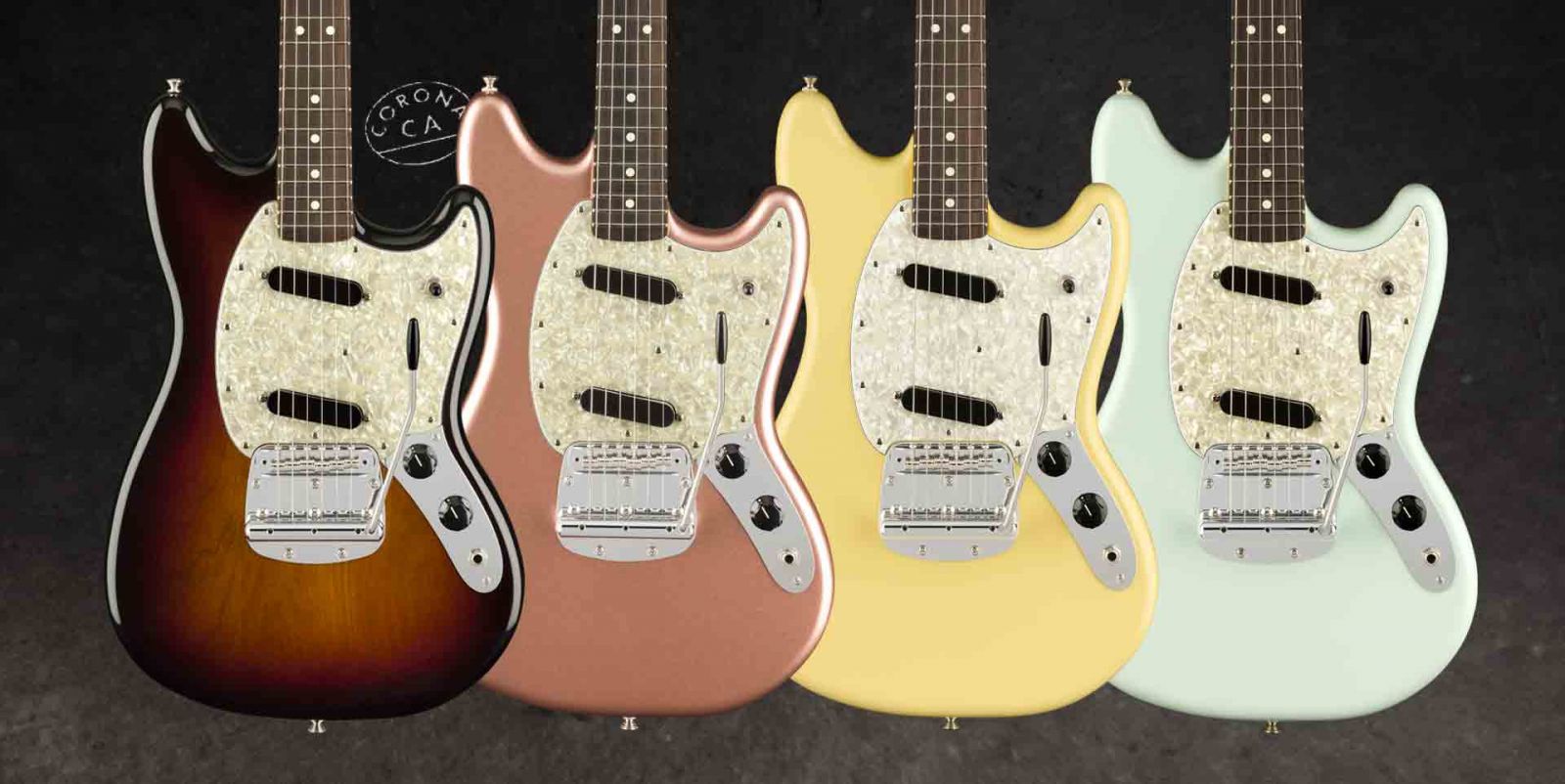 Fender's new innovative and patent-pending Double Tap™ humbucking pickup delivers full-throated humbucking and expressive single coil tonalities without the volume losses typical in split coil pickups. Fender's new ClassicGear™ tuners give players the best of both worlds - with vintage styling and a modern 18:1 gear ratio for smooth action and better fine tuning. All of these incredible features and innovations come standard on American Performer.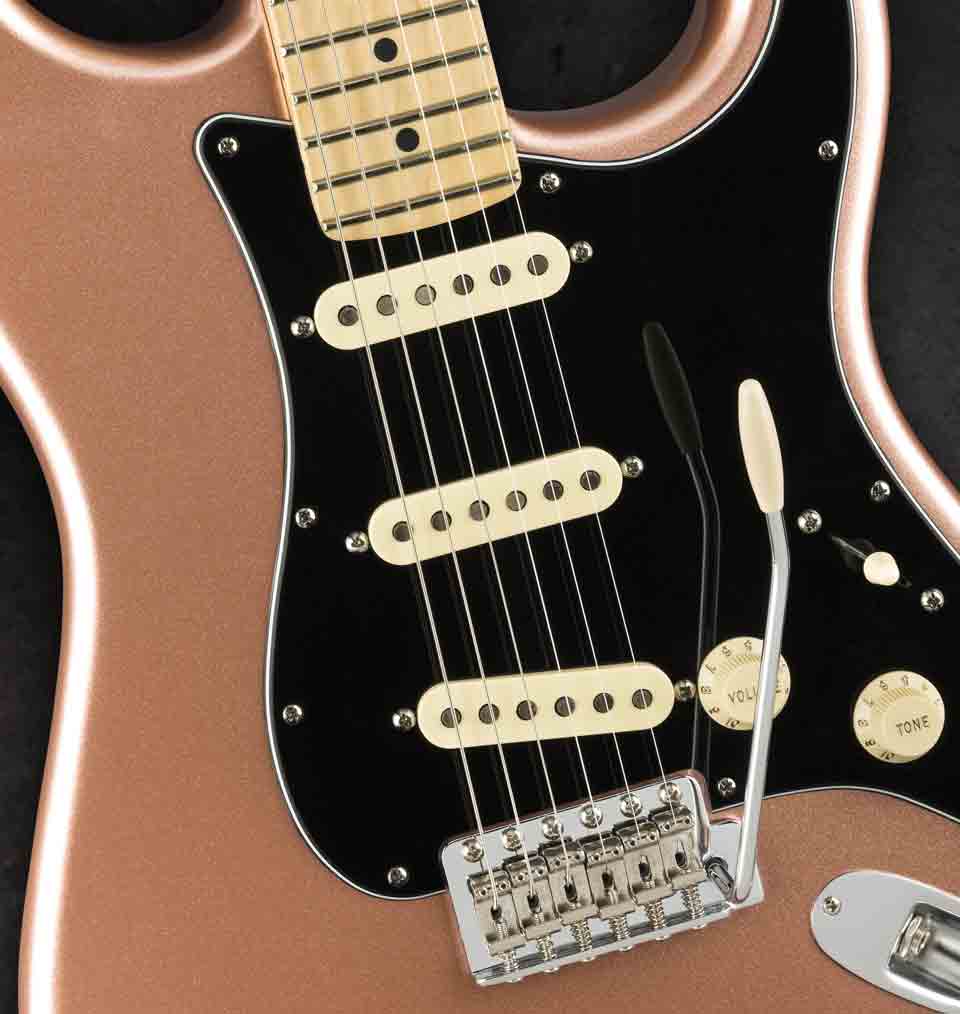 SEE OUR RANGE HERE.

The American Performer Series presents an incredible opportunity. Never before has so much value been delivered in an American-Made instrument at this price.
Fender Yosemite™ Pickups

The hallmark of the new American Performer series is their all-new Fender Yosemite™ pickups. The overarching design philosophy behind these pickups is to create a series-wide blueprint that improves the performance for each individual model. We're not resting on our laurels – we're pushing the boundaries while revering the incredible Fender pickup legacy.

This holistic design approach to pickups within a specific series is a Fender mindset that began with American Elite series in 2016 and has progressed through the relaunch of American Professional in 2017, and American Original and Player series in 2018.


Fender Yosemite Pickups Layered and Nuanced Tone

The American Performer Yosemite pickups have a layered and nuanced tone which is distinctive and musical in a variety of performing situations. Most of the Yosemite single coil models incorporate Alnico 4 rod magnets, a material never used before in Fender pickups. Alnico 4 shares many characteristics with both Alnico 2 and Alnico 5 – it's more powerful and defined than Alnico 2, but less bright and focused than Alnico 5.

Alnico 4 produces a fast attack with a clean musical tone while remaining true to the Fender tonality that players know and love.


Boom Shellac-alaca! - Fender Yosemite™ Pickups: Shellac Dipped

Outside of one or two exceptions, the Yosemite pickup coils are dipped in shellac instead of wax to suppress feedback and noise. Shellac is thinner and not as soft as wax, the coating controls feedback but allows the coil to "breathe" a bit more than wax does. Shellac is vintage Fender technology and was used on some of the classic Fender pickup designs of the 1960's. All sets are calibrated for equal volume in all switching combinations.


Fender Yosemite DoubleTap™ Humbucking Pickups

Designed by pickup guru Tim Shaw, the robust-sounding DoubleTap™ pickup is a revolutionary breakthrough in humbucking pickup technology. This unique, patent-applied-for design has the full-throated humbucking power that has made our Shawbucker™ pickups famous. When tapped, the single coil tonalities are expressive without the volume losses commonly heard when humbucking pickups are split into single-coil mode. Alnico 4 (Stratocaster HSS) and Alnico 5 (Telecaster Hum) bar magnets increase the output, letting the instrument's natural voice shine, while a light wax potting controls runaway feedback with no compromise is response.

Two models feature the new DoubleTap™ humbucking pickup; namely the American Performer Stratocaster HSS and new Telecaster Hum.



Fender Greasebucket™ Tone Control

The Greasebucket tone control circuit was pioneered by Fender in 2005 and has been a player's favorite ever since. So, what does it do? Normally, when you turn a tone control down, it's because you want to roll-off some high end. With a basic tone control however, you also lose gain and gain loss can make your tone muffled or muddy. The Greasebucket maintains the tone control's gain even when you dial it back.

So, if you want to adjust your tone control for some growling, greasy grit without compromising your output gain, the Fender Greasebucket is a slick feature to have on board. The Greasebucket circuit is built-in to every American Performer guitar and bass model.


New Fender ClassicGear™ Tuners

Players love the look of the tuners used on vintage Fender guitars. Trouble is, they are simply outperformed by modern die-cast tuners. For the American Performer series, Fender engineers were tasked with designing a tuner with modern performance, but cool vintage looks. Their solution? All new Fender ClassicGear™ tuners! ClassicGear tuners "drop-in", meaning they are individually anchored with a nut on the face of the headstock instead of with small screws on the back. With a modern 18:1 gear ratio, they deliver fine-tuning adjustments with smooth action.


American Performer Necks: '70s Styling / Modern "C"

The American Performer guitars and basses are quickly identified by their late-'60s / '70s styled headstock, bold decal model name graphics and Bob Perine logo. Infamously enlarged by CBS ownership, the "big" Stratocaster headstock is the most recognizable of them all. Despite the chagrin of purists, it has become identified with icons like Jimi Hendrix, Ritchie Blackmore and David Gilmour. It's a cool mark of distinction for the American Performer series.
Below is the full range of the Fender American Performer Series. We will be getting most of these, if not all in at some point. If there's one specific instrument you'd like to see in the shop, or to check our current or forthcoming stock, call us on 01524 410202.
American Performer Stratocaster®, Rosewood Fingerboard, Honey Burst
American Performer Stratocaster®, Rosewood Fingerboard, Arctic White
American Performer Stratocaster®, Maple Fingerboard, Satin Lake Placid Blue
American Performer Stratocaster®, Maple Fingerboard, Penny
American Performer Stratocaster® HSS, Rosewood Fingerboard, 3-Colour Sunburst
American Performer Stratocaster® HSS, Rosewood Fingerboard, Aubergine
American Performer Stratocaster® HSS, Maple Fingerboard, Black
American Performer Stratocaster® HSS, Maple Fingerboard, Satin Surf Green
American Performer Telecaster®, Rosewood Fingerboard, Honey Burst
American Performer Telecaster®, Rosewood Fingerboard, Satin Sonic Blue
American Performer Telecaster®, Maple Fingerboard, Vintage White
American Performer Telecaster®, Maple Fingerboard, Penny
American Performer Telecaster® with Humbucking, Rosewood Fingerboard, Aubergine
American Performer Telecaster® with Humbucking, Rosewood Fingerboard, Satin Surf Green
American Performer Telecaster® with Humbucking, Maple Fingerboard, 3-Colour Sunburst
American Performer Telecaster® with Humbucking, Maple Fingerboard, Vintage White
American Performer Jazzmaster®, Rosewood Fingerboard, 3-Colour Sunburst
American Performer Jazzmaster®, Rosewood Fingerboard, Satin Lake Placid Blue
American Performer Jazzmaster®, Rosewood Fingerboard, Vintage White
American Performer Jazzmaster®, Rosewood Fingerboard, Penny
American Performer Mustang, Rosewood Fingerboard, 3-Colour Sunburst
American Performer Mustang, Rosewood Fingerboard, Vintage White
American Performer Mustang, Rosewood Fingerboard, Satin Sonic Blue
American Performer Mustang, Rosewood Fingerboard, Penny
American Performer Precision Bass®, Rosewood Fingerboard, 3-Colour Sunburst
American Performer Precision Bass®, Rosewood Fingerboard, Arctic White
American Performer Precision Bass®, Maple Fingerboard, Satin Lake Placid Blue
American Performer Precision Bass®, Maple Fingerboard, Penny
American Performer Jazz Bass®, Rosewood Fingerboard, 3-Colour Sunburst
American Performer Jazz Bass®, Rosewood Fingerboard, Arctic White
American Performer Jazz Bass®, Maple Fingerboard, Satin Surf Green
American Performer Jazz Bass®, Maple Fingerboard, Penny
American Performer Mustang Bass®, Rosewood Fingerboard, 3-Colour Sunburst
American Performer Mustang Bass®, Rosewood Fingerboard, Aubergine
American Performer Mustang Bass®, Rosewood Fingerboard, Satin Surf Green
American Performer Mustang Bass®, Rosewood Fingerboard, Arctic White