Zoom H2n Mid-Side Portable Recorder
Zoom H2n Mid-Side Portable Recorder
Create stunning 360-degree recordings
Zoom H2n Recorder
The H2n Handy Recorder is the only portable recording device to come with five built-in microphones and four different recording modes: X/Y, Mid-Side, 2-channel surround and 4-channel surround. Other advanced features include automatic gain control and onboard MS decoding, plus effects like compression, limiting and low cut filtering. You can even use the H2n as a multi-purpose USB microphone!
Full Description
The first portable mid-side recorder
The H2n is the first handheld recorder to offer Mid-Side stereo recording, a technique used for many years in film and broadcast, where ambience and surrounding noise are crucial. Mid-Side recording combines a uni-directional Mid mic that captures sound directly in front of you and a bi-directional Side mic that captures sound from your left and right. By increasing or decreasing the level of the Side mic, you can control the width of the stereo field, which gives you incredible flexibility over your recordings. If you record in RAW mode, you can even adjust the stereo width after recording.
Accurate stereo imaging
The H2n's onboard 90° X/Y stereo condenser mics are arranged with the right and left mics on the same axis. This design ensures that the mics are always equal distance from the sound source for perfect localization and no phase shifting. The result is brilliant stereo recording with natural depth and accurate imaging.
Using the H2n's Mid-Side and X/Y mics together, you can create stunning 360° surround sound recordings. Choose between 2-channel mode, which combines the Mid-Side and X/Y mics, and 4-channel mode, which records two separate stereo files, allowing you even more post-production capability. No matter which mode you use, you'll get perfectly balanced, surround sound recordings.
New and improved crisp LED screen
The 1.8-inch backlit LCD display (128 x 64 resolution) provides crystal-clear monitoring and makes it simple to navigate all of the unit's functions, with a built-in reference speaker letting you know your recordings have been captured. With its 1/8-inch stereo output, you can also playback your recordings on your home audio system or listen to your masterpiece using your favourite pair of headphones.
Transfer and edit at high speeds
Use the H2n's High-Speed USB 2.0 interface to transfer files to your Mac or PC. Once your recordings are on your computer, you can easily store, edit, playback and share your favorite creations. You can even use the H2n as a USB microphone, letting you record directly to your computer.
Steinberg's WaveLab LE 7 software is included and can be used for audio editing and professional-quality mastering. By using its precise waveform editing and high-quality processing, you can refine your recordings into finished works.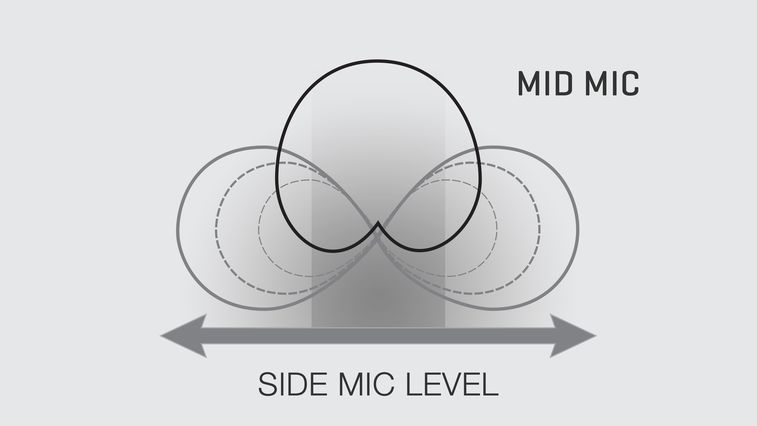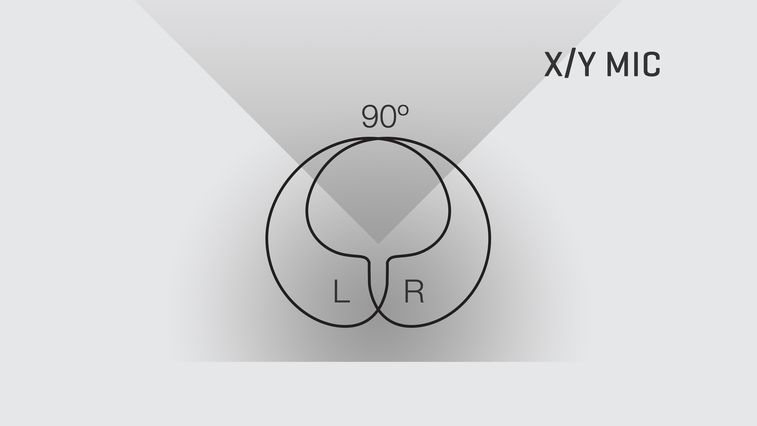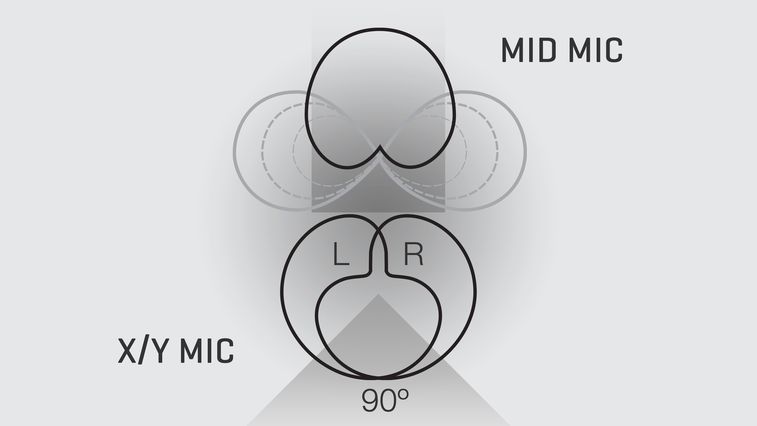 Features
Five built-in microphones and four recording modes: Mid-
Side (MS) stereo, 90° X/Y stereo, and both 2-channel and 4-channel surround
Analog-type input gain control
Auto Gain provides three preset recording levels
Stereo 1/8-inch Mic/Line In mini phone jack with Plug-in power (2.5V)
Stereo 1/8-inch Phone/Line Output jack with dedicated volume control
Built-in reference speaker for fast monitoring
Large 1.8 inch backlit LCD display
Records directly to SD and SDHC cards up to 32GB
Supports up to 24-bit/96kHz audio in BWF-compliant WAV or a variety of MP3 formats
Auto-record and Pre-record features
WAV to MP3 conversion
Internal mixdown: four-track surround to stereo
Up to 99 marks per recording
Built-in effects, including compression/limiting and low-cut filtering
Onboard MS decoding
Normalize and Divide functions
Chromatic tuner and metronome
Loop playback with user-defined start and stop points
Variable playback speed, from 50 to 150 for phrase training
Variable pitch without affecting playback speed
USB port for data exchange to and from computer and use as a USB microphone
2-in/2-out USB audio interface for PC/Mac computers
SD card reader function
Data recovery function automatically saves data if power fails or card is removed
Mounts directly to tripod or DSLR
Runs on only 2 standard AA alkaline or NiMH rechargeable batteries, or AC adapter (AD-17, USB to AC type)
Over 20 hours of operation with 2 AA alkaline batteries
Specifications
General
Recording media: 16MB–2GB SD cards, 4GB–32GB SDHC cards
Built-in memory: Up to 1 minute in 96kbps MP3 format (Recording overwrites any previous recording in memory)
Mic arrangements: 90? X/Y stereo, MS stereo with adjustable side mic level
Recording modes: MS, XY, MS+XY (2ch), MS+XY (4ch)
Microphone types: Directional (XY, MS mid mics), Bidirectional (MS side mic)
Maximum sound pressure input: 120 dB spl (directional), 122 dB spl (bi-directional)
File Formats
Stereo uncompressed PCM: 44.1 / 48 / 96kHz, 16 / 24bit WAV (BWF)
Compressed MP3 (recording): 44.1kHz, 48kHz 56 /64/80/96/112/128/160/192/ 224/256/320kbps (Not compatible with MS-RAW recording)
Compressed MP3 (playback): 44.1kHz, 48kHz 32/40/48/56/64/80/96/112/128/160/192/224/256/320kbps
4ch uncompressed PCM: 44.1 / 48 / 96kHz, 16 / 24bit WAV (BWF)(Two stereo files for each recording)
Digital Processing
A/D conversion: 24-bit 128x oversampling
D/A conversion: 24-bit 128x oversampling
Signal processing: 32-bit
Recording time (2GB card): 3:08:00 (44.1kHz/16bit WAV), 34:43:00 (128kbps MP3)
Additional Features
Lo cut: 80Hz high-pass filter
Comp/Limiter: 3 types of compressors and 3 types of limiters
Auto gain: Automatic input gain adjustment (3 levels)
Pre rec: 2 seconds of pre-recording
Auto rec: Automatic recording start/stop, continuous standby
Tuner: Chromatic, guitar, bass and alternate (A/E/G/D/DADGAD) tunings with automatic string detection
Metronome: 40–250 BPM range, five tones, pre-count
Speed: Playback speed adjustable between 50–150
Key control: Playback pitch adjustable ±6 semitones (Cannot be used with 96kHz files)
AB repeat: Repeats playback between selected points in a file
File divide: Divides a file into two
File normalize: Maximizes file volume (Cannot be used with MP3s)
File MP3 encode: Converts WAV files to MP3 formats at fixed bit rates
Mark: Up to 99 marks (WAV files only)
Surround mixer: Adjusts mix balance when playing back 4ch surround recordings
Other
Display graphic: 128×64 pixels backlit LCD
Input gain: 0 to +39 dB
Input jack:

Line/mic stereo mini jack with plug-in power
2 kΩ impedance at input levels of 0 to –39 dBm

Output jack: Line/headphone stereo mini jack
Rated output level: −10 dBm (output impedance 10 kΩ or more)
Headphones: 20 mW + 20 mW (into 32 Ω load)
Built-in speaker: 400mW, 8Ω, mono
USB: Mini-B type, Card reader operation
USB 2.0 high speed: Audio interface operation
USB 1.0 full speed:

Supports 44.1 / 48kHz sampling rates and 16-bit rate
USB bus power operation supported

Power:

Two AA batteries, AD-17 USB to AC adapter (DC 5V 1A)
Continuous operation of 20 or more hours when recording
44.1kHz/16-bit WAV files using alkaline batteries

Physical features: Tripod mounting socket, strap attachment
Dimensions: 67.6mm (W) x 113.85mm (H) x 42.7mm (D)
Weight: 130 g (without batteries)
---
Important Note
Price errors and omissions excepted - An order is considered finalised on dispatch. No monies are debited from your card until the item is in stock or by prior arrangement.
#