---
---
Online Orders

If you are ordering a product online below 50kg, the standard delivery cost for Mainland UK is £6.39 + VAT = £7.67. In the majority of cases, this service is provided by Parcelforce and is a next working day, fully insured service.
Saturday and Sunday are not considered working days. Items over 50kg may be charged at a higher rate.
If you are not in Mainland UK (ie in the Highlands of Scotland, the Isle of Man or the Channel Islands and Northern Ireland), the c...
---
Returns

If for whatever reason you change your mind and would like to return your order after it has been delivered, we offer a 'Return To Base'
policy - whereby you can return the unopened goods to us here at Promenade Music, within seven days of the original delivery date, and we will refund the full amount of the purchase, minus any carriage charge.

Following the distance selling regulations, we will accept items back even if you have opened the goods to inspect them. You a...
---
Welcome to our website. If you continue to browse and use this website, you are agreeing to comply with and be bound by the following terms and conditions of use, which together with our privacy policy govern Promenade Music's relationship with you in relation to this website. If you disagree with any part of these terms and conditions, please do not use our website.
The term Promenade Music' or 'us' or 'we' refers to the owner of the website whose registered office is 404 Marine Road ...
---
Our Privacy Policy
This privacy policy sets out how Promenade Music uses and protects any information that you give Promenade Music when you use this website.
Promenade Music is committed to ensuring that your privacy is protected. Should we ask you to provide certain information by which you can be identified when using this website, then you can be assured that it will only be used in accordance with this privacy statement.
Promenade Music may change this policy from time to ...
---
UK Customers
If you are a UK based customer, you can buy here online through our 3D secure store.

European Customers
If you are a European based customer, good news, we do accept European orders for some products but due to international credit card fraud, we only accept payment for European orders by bank transfer.

If you would like to order a product from us, the process is as follows.

Step 1
- Email Us with the product you would like to order / enquire about.
- ...
---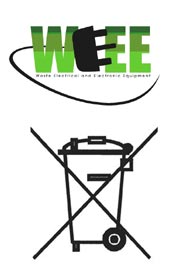 The WEEE Directive

The Waste Electrical and Electronic Equipment Directive (WEEE Directive) was introduced into UK law in January 2007 by the Waste Electronic and Electrical Equipment Regulations 2006. The amount of Waste electrical and electronic equipment thrown away in the UK is increasing by about five per cent per year, making it the fastest growing waste stream in the UK. The WEEE Directive aims to reduce the amount of WEEE being produced and to encourage everyone to reuse, recy...
---